Back to Home Page > Back to Mortgage Articles >
.
Piggyback Mortgage Loans
What is a Piggyback Loan? Since many borrowers want to avoid paying costly private mortgage insurance (PMI) premiums on their home loans, lenders have started aggressively promoting piggyback loans. A piggyback loan is simply a second mortgage which closes simultaneously to the primary mortgage.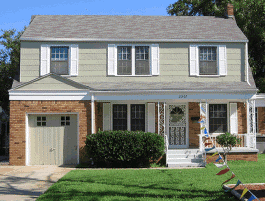 The second mortgage will make up the difference in equity required by the lender to avoid PMI. Click here to apply for a piggyback loan today!
Let's assume you want to purchase a home for $100,000. You have $10,000 to use as a down payment. This would mean you would still have a mortgage of $90,000, or 90 percent loan-to-value (LTV) ratio. In order to avoid costly PMI premiums, you need to have that LTV ratio be below 80 percent. To accomplish this, lenders will setup a second mortgage in the amount of $10,000. When you close on your loan, you will have a first mortgage that is equal to 80 percent of your home's value, a second mortgage equal to 10% of your home's value and you will be contributing 10% of your own funds as down payment. This format is known as an 80-10-10 mortgage loan.
If you didn't have anything to put down on the home and you needed a second mortgage equal to the entire 20 percent equity requirement, you would get an 80-20-20 mortgage. In our example above, this would mean you would end up with an $80,000 first mortgage and a $20,000 second mortgage.
There are many different options when it comes to piggyback loans. Other options include 80-15-5, 75-15-10 and others. Click here to apply for a piggyback loan today!