Back to Home Page > Back to Mortgage Articles >
.
Bridge Mortgage Loans
What is a Bridge Loan? Here's a quick scenario. You decide to start "shopping" for a new home, with no real intent to purchase immediately. You happen to come across the perfect home and decide you're ready to make an offer.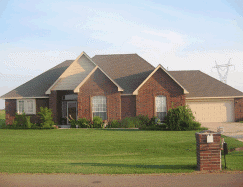 However, you have a problem -- you haven't put your existing home on the market yet.
You go ahead and put a contingent offer on this perfect home, but the seller denies it or another buyer without a contingency also makes an offer. You don't want to lose this perfect home, but don't know what to do?

With today's real estate "sellers market", many home builders and sellers will not agree to a purchase contract that includes a contingent offer (or they will have an easy out of the contract if they find another buyer who does not have a contingency in his/her contract). Many real estate agents and mortgage professionals will recommend a bridge mortgage loan. The bridge loan is a secondary mortgage on your existing home that can be used as a down payment on the new home. It is paid off when your existing home sells. Apply Now for a Bridge Loan or Home Equity Line of Credit!

Should I Apply for a Bridge Loan? It depends on how badly you want the new home. If it is indeed the perfect home, you'll should proceed with getting a bridge loan. Since bridge loans are considered slightly more risky (and lenders know that you're in a bind!), the prices are a little higher. If the home isn't really the "perfect" home, you might just let it go and be prepared for the next home. Apply Now for a Bridge Loan or Home Equity Line of Credit!

Bridge Loan Alternatives
One low cost alternative to a bridge loan is a home equity line of credit. When applying for a home equity line of credit, also know as a HELOC, lenders will ask you what you intend to do with the line of credit proceeds. You can give a generic answer like "home improvements". The majority of lenders will not check after the line is approved and opened and you can spend the money on anything you want (including making a down payment on a new home). You are given a checkbook or credit card to use to advance payments from your HELOC.

The nice thing is that home equity credit lines are generally significantly lower priced and have better rates than bridge loans. A HELOC is a great alternative to a bridge loan. Apply Now for a Bridge Loan or Home Equity Line of Credit!